Marketing strategies you should be working on throughout 2021 & 2022
2020 was a wild year. Half storm, half dud – to some extent, it doesn't really feel like it's over. But with the vaccines rolling out globally, and the weather just about starting to turn clement, things feel like they're levelling out.
Many marketing strategies for 2020 had to be shredded around this time last year, but this year we've got the benefit of hindsight. But it's also worth underpinning this with the statement that, fundamentally, the methods by which we're reaching audiences haven't really changed.
Our job as marketers is to find the right people and talk to them in the right way. That well may be a personalised email, it may be a well-targeted Facebook ad, it could be a blog answering just the information someone needs, or it could be a dazzling Google display ad – popped up at just the right time. These things, other than a few different bells and sharper whistles, haven't really changed over the last year.
What has changed dramatically is what people want, and how they want it. Marketing strategies, therefore, need to understand changes in their audiences and plan how to best address those changes.
Before we get stuck in, we'll have to ask:
Why digital marketing?
Digital might seem like a modern, upstart usurper, but it's effective in all the ways traditional marketing methods were not. That's not to say that traditional marketing isn't effective in the right methods (niche plumbers' products, for example, are still quite likely to get their sales significantly from good placements in trade catalogues) – it's just that you can be a whole lot more precise, more interactive, and cheaper with digital marketing methods.
Here are a few other reasons:
You can automate many things

You can get really great, deep insights on your audiences

You can effectively target audience segments based on a bunch of criteria – much cheaper than renting a billboard, and with much greater reach

Social marketing allows for the possibility of viral growth

Fewer start-up costs, as well as lower running costs – again, you don't have to spend big bucks to rent a billboard when you can run Google ads to a more targeted audience
With these in mind, the question should really be why not digital?
So, the strategies for marketing in 2021:
Get
everything
online
People rushed to source everything online with the onset of the pandemic, which left many non-digital businesses significantly behind. And unnecessarily so – most businesses that operate offline are able to adapt their model to deal with customer service and sales primarily online.
If you used to deal primarily face-to-face with your customers, or your client did, get a website as soon as possible and get all of the vital information on it. If you have a few clients or members of your team who aren't up to speed with working everything digitally, make sure you train them.
Invest in visuals
With everyone online, a big differentiator in the quality of a business is how its 'shopfront' looks – in other words, if your website looks naff, you're going to have to have a significantly better product than all your competition in order to convince customers to part with cash.
Invest in visuals for everything: parts of your website, emails, thank-you labels, written content. Especially in the last 3-5 years, we've seen a massive increase in how brands are making websites and supporting marketing beautiful in order to inspire a sense of ease with customers. 
Just look at how vibrant Adobe's ads are: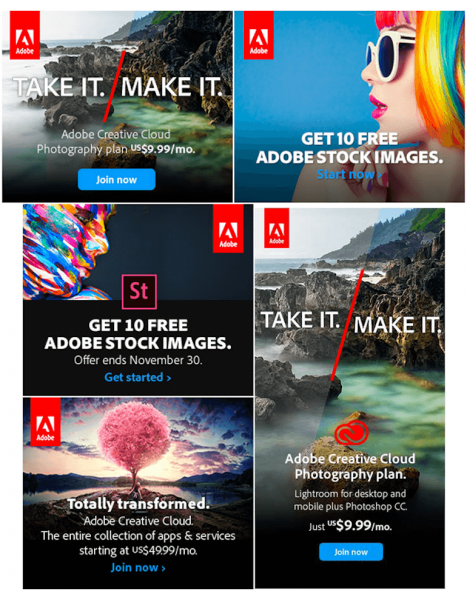 And this makes sense. As recently as the mid-2000s, if you received a letterheaded letter, you knew that someone meant business. Worse yet, if you received unbranded or poorly branded marketing letters, they'd go straight in the bin – why would emails be treated any differently?
Really pretty, helpful content consistently ranks higher – so make sure it's part of your marketing strategy for this year.
Invest in long-form content
Where it makes sense to do so, invest in long-form content.
Not just for the sake of it, but because long-form, in-depth content consistently ranks highly. Not only are you able to get really involved in a topic with a long-form article, but you're able to target a wider variety of related keywords within a semantic field and thus capture a wider slice of traffic.
Now, for me, the jury's still out on whether the successes of long-form content are correlation or causation.
The likes of Neil Patel emphasise how writing longer articles mean they rank higher. Yet, a lot of Neil Patel's long-form articles aren't actually that nice to read. They may be helpful in part, but they're also not straightforward – and they're often fluffed up with largely irrelevant content that's still semantically relevant (such as a lengthy aside on how to set up a profile on a particular platform).
My theory here is that a lot of the gurus claiming that long-form content automatically ranks higher are seeing results based on their already-inflated traffic sources.
The algorithm sees that they're talking about a certain topic with enough semantic density, it sees that these domains regularly see a lot of traffic, so it assumes this or that article are likely better to read – and because the articles are long-form, people technically stay on a page for much longer than they otherwise would.
Quite possibly, these results are influenced by what readers are most familiar with. Considering, like, 95% of articles on the web are between 500-700 words, people are likely fed up with content that does-but-doesn't-quite answer their questions. Or, conversely, content that answered their question in the first 300 words, but was expanded to meet an arbitrary 500-700 word count. If you can answer a question in 300 words, do so. 
Yet, I do stand by the value of long form content. Giving yourself more scope to get really in-depth with a topic does mean you have more scope to be helpful to your readers. It also gives you a whole lot more real estate to link out to related pages.
Just make sure that when you're investing in long-form, you're doing so with the primary aim of providing more information in a helpful way – not with the primary aim of making something long because "it'll rank higher".
Update old content
Having said all that, writing a long-form blog (1200-words or more) from scratch can be quite an investment – you'll usually need to do significantly more research than you would for a 500-word blog, so it's often not as simple as doubling the time-estimation.
If you have old content that is still relevant, it'll often be significantly easier, and more cost-effective to expand a 500 word blog into a really involved piece of long-form content.
Not only will you be making better use of something you've already invested in, but Google places a lot of emphasis on freshness of content. Updating old content to refresh it can have a serious ROI as part of a broader strategy. Just make sure that you're also updating the content with up-to-date SEO best practices!
Collect emails
Collecting emails is still a really important way to develop a direct line – and subsequent relationship – with your customers. It might seem old-hat, but developing a strong set of mailing lists, backed with regular, killer content is still one of the best ways to get people excited about your products or services.
After all, once you have an email address then all you need to do is write the copy and layout the email attractively – no need to pay for postal fees, no need to pay for reams and reams of paper to have them printed. What's more, tracking opening rates and clicks means that you can construct really involved campaigns to funnel people to exactly where they need to be.
Tie all of your content into an email marketing strategy, so that you can capture emails from articles, and then alert signees of new content – as well as enticements in the form of vouchers and discounts.
Get responsive, get dynamic
When it comes to everything design-wise, you need to get responsive and get dynamic. Using elements instead of whole pictures means that you can easily, automatically rearrange page layouts and designs according to whatever screen it's being seen on, whenever it's being seen.
Responsive design has definitely been taken up by many large brands in the last couple of years, but it seems to be intimidating for those on smaller budgets as it feels like it's only a large-budget, slick, design element. That's not really the case.
It does take a little extra time, but once you have the elements rather than the image, you'll be able to optimise for anything. Need to use those elements for an ad? Let's go. Need a banner? No sweat. Importantly, you can even get into the dark arts of dynamic testing using elements.
Resources to help you this year
One problem with advanced marketing is that you often do need to have advanced budgets in order to pay for the more powerful software (like SEMrush, Moz, or Adobe Creative Cloud). So here are some great tools to use that won't break the bank!
Great free or cheap marketing tools
Hootsuite is a great platform for scheduling social media content – it has a more limited free version that'll let you schedule up to 30 posts at a time over a limited number of platforms. For most small businesses, this is a great way to start getting organised with posting. Spend a few hours at the beginning of every month to plan 2-3 posts a week to different platforms so that you can free up your time during the month to focus on other things.
Mailchimp offers a brilliant 'forever free' plan for up to 2000 email contacts. They also offer a bunch of integration options so that you can easily drop email capture forms in a number of places on your site – as well as visually compose emails within their campaign builder.
Canva is a great tool for starting visuals. The fact that you can collaborate on designs with more premium subscriptions is one that many agencies find really helpful, and the variety of templates makes it easy to throw together fairly nice designs in no time. That said, the amount of people using Canva means that you're likely to inadvertently make a number of designs that are the same as others'. Nevertheless, if you're trying to get visuals done in a hurry, Canva's a great, free place to start.
BiQ is a great keyword research tool that lets you do up to 30 free keyword searches a month. It'll categorise what the searcher intent is, as well as give you super helpful metrics like organic competition and (obviously) search volume. 30 searches may not be enough if you're ramping up your SEO but for the beginnings of a content strategy, they should suffice.
Trello is a tool for organising tasks and teams based on 'cards'. It can be really helpful for keeping track of information, as well as organising tasks in order, but falls short in some aspects of calendar and process management.
Asana is a project management tool that we use at Sleeping Giant Media. It feels like some pretty maze to begin with, but once you get familiar with it you can manage things in a huge number of ways – however it suits you. They also offer a free version for individuals and small teams.
Moz bar is a free browser extension for SEO that gives you limited but useful information such as domain and page authority. Now, this is Moz's estimation of a page authority, not Google's, but they're close enough that you can use this as good guidance.
Clockify helps you keep track of your time. Even if you're not working on an hourly rate, it helps you quickly see how long you're taking on a task so that you know you need to hurry up.
Google Analytics, Google Ads, & Google Search Console are incredibly helpful tools for tracking how you're doing in search results, organising PPC campaigns, and conducting keyword research. If you're not familiar with them yet, get up to scratch as fast as you can, because they're going to supercharge your digital marketing.
Sign Up For More
Stay up to date with the latest happenings, learnings, events & more with our GIANT Newsletters.
Contact Us
Top Floor, The Civic Centre, Castle Hill Avenue, Folkestone CT20 2QY.
Copyright © 2022 Sleeping Giant Media. All Rights Reserved.