Welcome to this week's digital news roundup, where we roundup the coolest things happening in our world that we think you'd benefit from knowing. This week we explore new features from Apple, Facebook, Instagram and Google, as well as looking at digital happenings in our local area.
Apple unveils new digital wellness features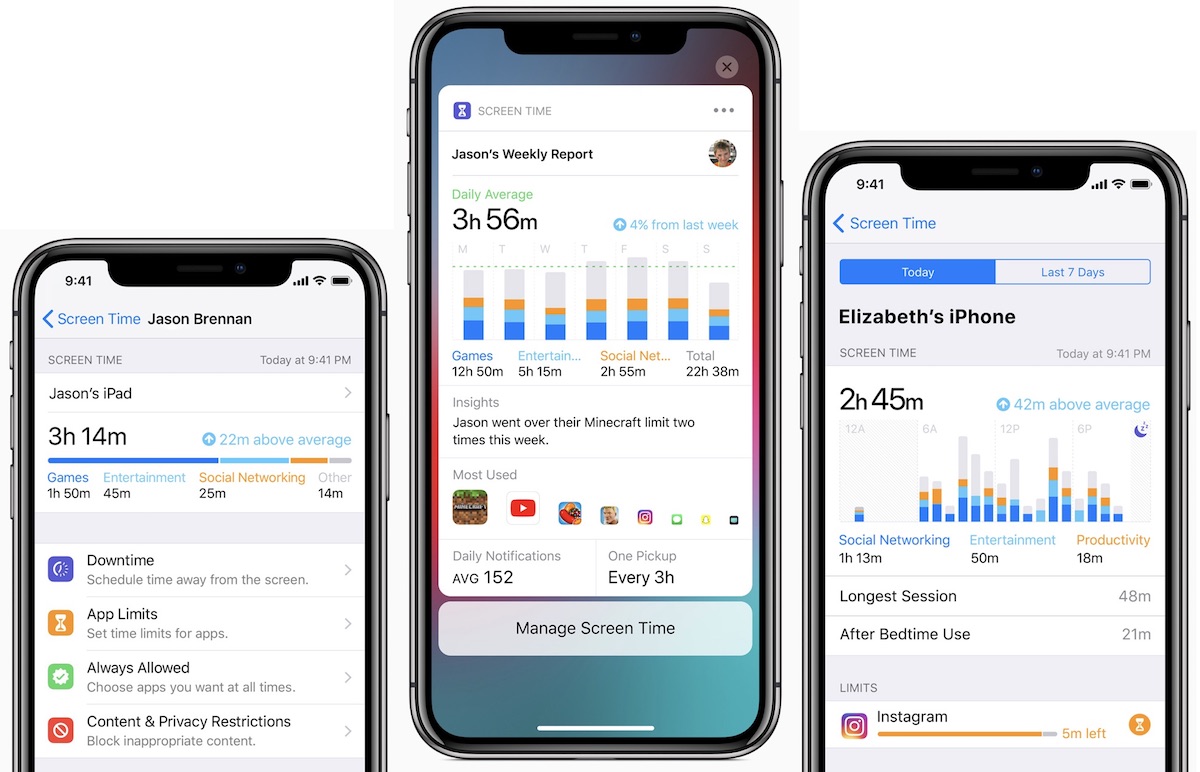 On Monday night Apple took to the stage at its Worldwide Developer Conference where it announced a number of new features that'll appear in the latest update to its iOS. One such update is that of digital wellness, allowing users to monitor how much time they spend on their devices, setting limits on individual app usage and the ability to control children's device usage.
They are upgrading the current Do Not Disturb feature on Apple devices that will lessen the number of notifications your phone can receive when this feature is activated. This upgrade will also see a new morning wake up screen that'll be bare of notifications so you can wake up stress-free rather than panicking that your grandma has butt-dialled you 50 times before 8am!
The new iOS will see weekly summaries of your screen time, with breakdowns per app and day, letting you know where you get the most notifications etc. This might be a bit of an eye-opener for some of us!
Off the back of this summary, you can choose to set time limits on the apps that take up so much of your precious time. Once the limit has been set, your device will alert you when you're nearing your allotted time. But don't fear, you can extend this time with a simple tap of your finger with only Apple judging you for being slightly obsessed with the scrolling action on Instagram.
Read more about the digital wellness features to be implemented under iOS 12 in TechCrunch's article.
Instagram algorithm explained
Up until this week, the Instagram news feed algorithm has been a mystery, no one too sure on what truly influences where your post will appear, but now all has been revealed.
Two years ago, Instagram made the bold decision to remove the chronological feed and replace it with an algorithm based one. Still, to this day it hasn't been received well by the Insta-population. But it would seem Instagram doesn't regret this decision, with no plans on reversing their actions.
They recently announced the various factors that affect your posts ranking, explaining it all comes down to three things: interest, recency and relationship.
The algorithm places posts based on your interests, recognising your past interactions on the platform and showing you related content. And the recency factor is quite literally how recently the post was posted. We all know how annoying it is when we see posts from two weeks ago, ugh! Last but not least, the relationship factor is a measure of your genuine interactions with accounts, including likes, tags and comments.
There are more things to consider, but Instagram won't share all their secrets. You can read more in Mashable's article – but whether you agree with their feed style or not, Instagram believes the algorithm works more in your favour than the chronological feed ever did.
Facebook rids its Trending Topics section
Facebook may seem like it knows best, but they seemingly made a mistake when it came to their Trending Topics section and are now ridding it from the platform.
The tool was brought in to help its users see trending topics on the platform, similar in style to trending topics on Twitter. However, despite being available in five countries, the feature accounted for less than 1.5% of clicks to news publishers.
Facebook have understood that the way we as users consume news has changed drastically recently to being primarily through mobile and video news formats. All these mediums are what users want to see placed within in their feeds, not through additional clicks to a new section.
To replace the trending topics section, Facebook is now trialling new news features. Some of these are geography specific, but the ones available in Europe are:
– Breaking news "indicators" and notifications in your News Feed
– "Today In" – a dedicated section on Facebook that connects users with the latest breaking news from local publishers in their area, as well as more nationwide.
It's good to see Facebook reacting to what the users want. Not abandoning the non-user-friendly option, but instead adapting their approach based on consumer needs, preferences and activity.
Instagram to update its video sharing capabilities
Instagram is mulling over ideas to keep you on their app for longer, starting with an update on the length of videos you can upload to the platform. Currently, the app allows you to post 60-second-long clips on your profile, or 15-second-long videos on your stories. They're now considering extending the in-feed videos to a whopping 60 minutes in length.
The app is also looking to introduce vertical video, similar to the style in story form, better adapting the on-screen visuals to the shape of the app itself. Kinda hope this doesn't mean we'll have 60-minute long Boomerang videos plaguing our feeds…
The plans for this are not yet finalised, so who knows what changes might happen, but the app that sees 300 million daily users is definitely following Zuckerberg's love for the "mega-trend" that is video-based content.
We're not sure how this one will go down with users, with the app being a favourite for most peoples quick strolls and shorter attention spans. Who goes onto Instagram with the intention of staying on one piece of content for more than the seconds it takes to double tap? Read more in The Wall Street Journal.
Google update their digital marketing education platform
Google has updated their digital skills elearning platform with newly updated content aimed at arming you with the skills necessary to run a business online. Google Digital Garage, a free online tool that gives you a recognised certification alongside IAB Europe, has updated its platforms current content and added new learning material based on growing digital trends.
The elearning platform has almost thirty topics composed of over a hundred individual lessons and assessments ranging from setting up a Google My Business to making sure you're secure online.
The latest update to the platform has also seen the introduction of an Action Plan that gives you tasks and suggestions to help implement what you've learnt during the lessons. The lessons are aimed at helping you maximise the potential of your business online or your career, with the certificate recognised by many employers across Europe.
We highly recommend you check out the platform and get the certificate. If you'd like to explore other ways of learning digital for free then you should have a look at the blog by Giant Campus, a digital marketing and skills training provider.
Local news
Social Day
The end of last week saw one of the biggest social media events in the UK, otherwise known as Social Day. This event ran by our friends at Avviso Media, spanned three days and saw a mix of industry thought leaders all talking about the importance of social media and digital strategy within business. You can read more about the event and see the insights we gained in our blog.
Dates for the next Social Day were released shortly after the end of the three day spectacular. So keep the 1st May to the 3rd of June 2019 clear in your calendars – you won't want to miss out. Get your tickets here.
Kent B2B – Ashford
On Thursday the 7th of June, Kent based businesses took to Ashford to take part in the first Kent B2B of the year. Our giants were among these businesses, situated at stand 26 with Giant Campus where they spoke to the masses of individuals who attended the event. Alongside exhibiting, we also had the opportunity to speak about the importance of digital within any and all industries through the power of some mini #GIANTtalks.
The people of Kent not only got to hear from us but local Paralympian Millie Knight, Jae Hopkins from Eurotunnel and the guys from Brachers – amongst a range of others.
This event put together by the guys at Pillory Barn was a great success. (Happy 25th anniversary by the way!) You can book onto the next Kent B2B in Medway here, see you there.
That's it for this week, but if you'd like to continue to read about the world of digital then please get carried away by our words and check out the blogs below: