Digital News Roundup – 22 February
The end of another week is upon us. This time around we're talking more Facebook drama, a newly-released Google whitepaper, updates from YouTube, and a whole new way to up your Insta game… can you guess what it is?
Google releases disinformation whitepaper – and people are underwhelmed
Google has released a 30-page whitepaper on fighting discrimination, highlighting the search giant's "work to tackle the intentional spread of misinformation" across platforms like Google Search, YouTube and Google News.
Experts have highlighted that there actually isn't anything particularly new contained within the whitepaper, but there are a few interesting points around rankings factors which are good for SEOs to brush up on.
It touches on PageRank as one of the best-known signals used by Google to assess authority and trustworthiness, through the use of links to "understand authority". There is also a section around YMYL content ('Your Money or Your Life' to those who don't speak digital), and how topics relating to these queries will be given more weight in Google's ranking systems – but once again, no direct relation to how their algorithms are formed, or how they work.
SEO Roundtable journalist Barry Schwartz said that anyone who read the site daily "would not be surprised by anything in the whitepaper", and our GIANT SEO Lead Danny agreed, saying that really nothing new can be learnt by reading. However, if you want to know more, you can check out the article, or read the whitepaper for yourself.  
UK investigation calls Facebook a "digital gangster"
Facebook is at the heart of yet another political drama, following an 18-month UK parliamentary investigation into fake news. The now published findings accuse Facebook of "intentionally and knowingly violating data privacy laws", as well as obstructing the committee's inquiry.
The inquiry, led by the Digital, Culture, Media and Sport (DCMS) committee, declared a need for more clarity from the social media giant. It also called for "a code of ethics to regulate social media platforms to limit the spread of fake news", something which is a hot topic in the last 12-18 months. The committee recommended new regulations on advertising, particularly around politics, calling for a system that would allow "anyone who saw an online political ad to determine who made it, who uploaded it, who paid for it and what country they came from".
The report berated Facebook for acting like "digital gangsters", going on to say that they cannot consider themselves to be "ahead of and beyond the law". "Companies like Facebook exercise massive market power which enables them to make money by bullying the smaller technology companies and developers who rely on this platform to reach their customers," the findings declared.
A spokesperson from Facebook's UK public policy department responded to the findings, saying they had answered "more than 700 questions" to support the investigation, with four of their most senior executives giving evidence. They also highlighted the changes they had already made, stating that "no other channel for political advertising is as transparent" as Facebook's.
For a more in-depth look at the findings, head to Net Imperative.  
Up your Insta game at Bluewater's new selfie factory
Ever wanted to take a selfie in front of a doughnut wall? Well, you're in luck. The UK's first selfie factory is coming to Kent, and it's going to change your Instagram forever.
"The UK's first Instagram inspired funhouse for selfies" will open at Bluewater in Dartford on Friday 29th March, and feature more than 10 different rooms – giving guests the option to take photos in settings like a confetti cove, a doughnut wall, a bathtub or a giant ball pit. Ahem – we did that first…
Created by a friend trio inspired by a trip to LA, the selfie factory has previously popped-up in Brighton and Shoreditch, with the Bluewater edition looking to be bigger and better than ever. Director Will Bower said: "We're now part of the selfie-generation; people are sharing more and more photos of themselves and sometimes go to great lengths to capture the perfect snap. Our goal is to create an environment where anyone can come in, have a load of fun over Easter while the kids are off school, and leave with some really cool pictures they can show their friends."
The shop will be open until Sunday 5th March, so if you're looking to up your Instagram game, you better book your ticket soon. Read more at Kent Online, or visit the website to book your slot.
YouTube adds "one-time warning" to community guidelines
YouTube has updated its strike rules for the first time in almost a decade, with a new system to warn channels that break the rules.
The community guidelines overhaul, designed to "be clearer and more consistent", will involve a new warning strike – a "one-time warning" issued by YouTube after a channel's first rule violation. There will be no penalty attached, other than requiring the channel to remove the offending content. After this, the standard three-strike system kicks in, coming with escalating penalties – with the third strike in 90 days resulting in a channel being shut down.
According to YouTube, 98% of users never violate the guidelines, with 94% of those who do never getting a second strike after receiving the first. The site hopes that the warning system will give channels the time to learn about the community guidelines, and what they entail.
The new warning strike system will kick in from 25th February and hopefully signals the platform getting a little more transparent around what does and doesn't get banned. Read more over at The Verge.
Instagram testing donation sticker for use in Stories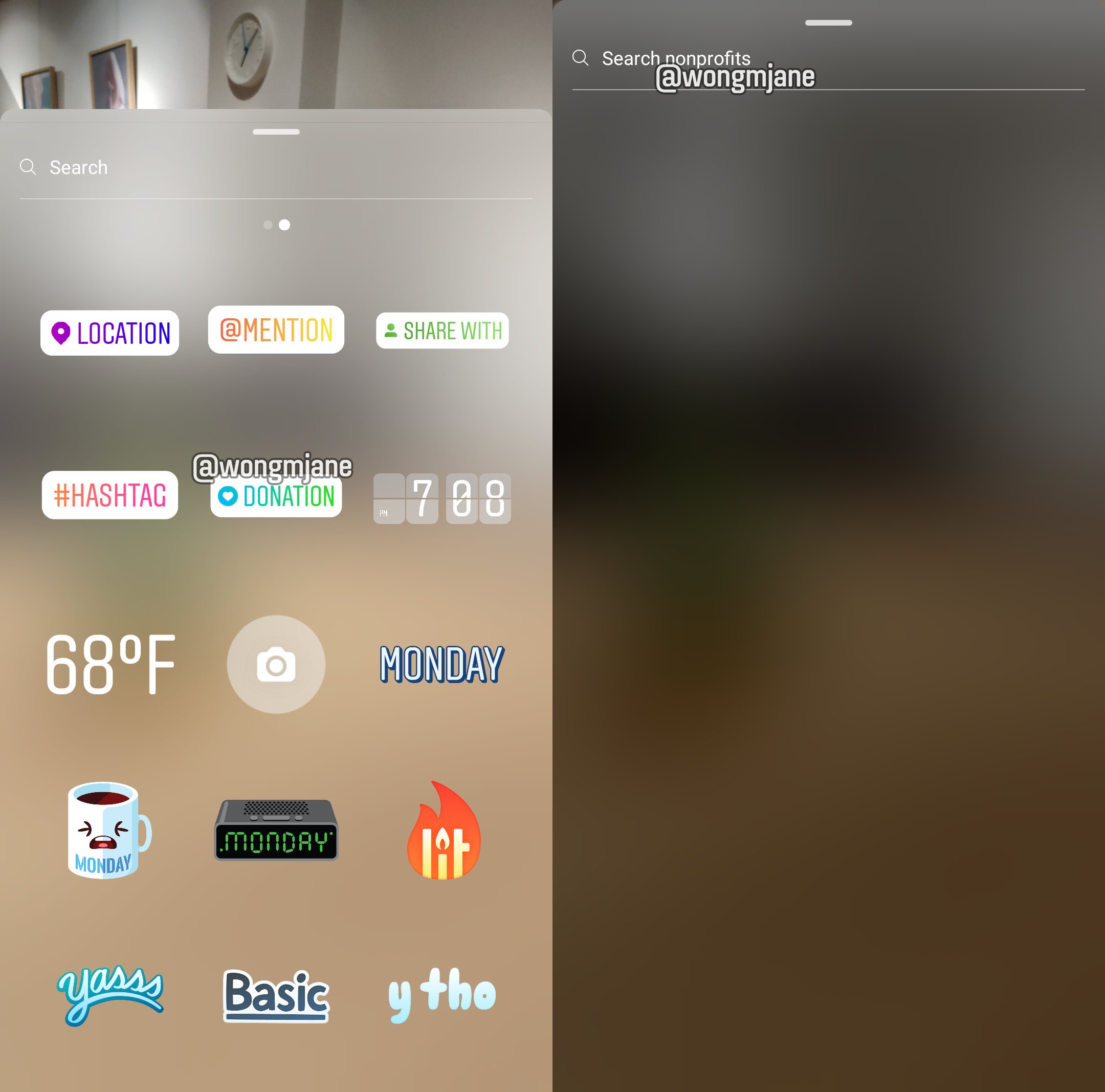 An app researcher has spotted yet another test happening on social media, with Instagram now reportedly trialling a donation sticker in Stories.
Facebook has had similar fundraising functionality since 2015, with options for posting fundraising and donation tools for charities on a personal profile, so perhaps this is a move for Instagram to follow suit. This also comes following rumours that Instagram is trialling options around a standalone shopping app, so a donation button could be a logical extension around adding payment functionalities within the platform.
Now, we'll just have to see if it makes the cut – or whether it will disappear forever into the store of not-quite-good-enough ideas. Read more at The Verge, or keep an eye on your Stories to see if it appears.
New website uses AI to create endless fake faces
A software engineer from Uber has built a website which creates "an endless stream of fake portraits" – educating people on just how good AIs can be at manufacturing fake visuals.
ThisPersonDoesNotExist.com, created by Philip Wang, uses research from Nvidia and has trained an algorithm based on a dataset of real images before a generative adversarial network (or GAN) uses this information to fabricate new examples. AKA – create new, super lifelike looking photos, that are actually entirely made up.
There are already people trialling GAN technology to mimic other source imagery, like anime and graffiti, in a bid to create new types of artwork – but there are also concerns about some less-favourable ways they can be used. Generating realistic imagery at scale could be used for "creating political propaganda and influence campaigns", and affect how people think about evidence and trust.
Read more about the technology, and how it could be used by heading over to The Verge, or visit the website to create some of your own fake faces.
How happy are you that it's Friday? If you want to wile away some more time, check out our latest blog around what makes content go viral, or read our thoughts on the weirdest influencer marketing campaigns out there… If you didn't know Post Malone loved Crocs, you do now. Enjoy the weekend people.
Want to know more?
Reach out and say hello. Come experience the GIANT side.
Newsletter
Stay up to date with the latest news and stories straight from Giant HQ.
Contact Us
Top Floor, The Civic Centre, Castle Hill Avenue, Folkestone CT20 2QY.
Copyright © 2020 Sleeping Giant Media. All Rights Reserved.